Plot:
An insurance investigator (CATHERINE ZETA-JONES, last seen in 'The Mask of Zorro') convinces her boss that only she can set the trap to catch legendary gentleman thief Robert MacDougal (SEAN CONNERY, 'The Rock,' 'The Hunt For Red October'), by posing as a master thief herself. As their mutual attraction - and distrust - grows, they plan a breathtaking heist on the eve of the new millennium. VING RHAMES ('Mission: Impossible,' 'Pulp Fiction') and WILL PATTON ('Armageddon,' ' Inventing The Abbots') also star.
Actors/Actresses:
*Sean Connery as Robert MacDougal*
*Catherine Zeta Jones as Virginia Baker*
*Will Patton as Cruz*
*Ving Rhames*
Crew:
Jon Amiel / Director
William Broyles and Ron Bass / Screenwriters
Sean Connery, Michael Hertzberg and Rhonda Tollefson / Producers
Iain Smith and Ron Bass / Executive Producers
20th Century Fox / Distributor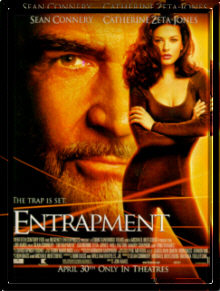 Release Date:
Now Playing
Entrapment Review page

You can read/add reviews about Catherine's new movie, Entrapment.